Brain Food and Lunch Break
Students have a brain food snack at 9:30am. Great choices for brain food include fruit, vegetables, dried fruit, (eg, raisins) and plain popcorn.
Lunch is from 12:30pm. The Heart Foundation advises that children need a variety of healthy food to learn and grow. They recommend choosing foods from each of the four food groups, ie:
Vegetables and fruit

Milk, yoghurt and cheese

Grain food and starchy vegetables

Legumes, fish, seafood, eggs, poultry and meat
They also suggest cutting sandwiches, fruit and vegetables into different shapes, using wraps, pita bread, muffins, etc, to keep lunches interesting, and choosing water which is the best drink for your child.
For more ideas and information, please click here. More recipes provided by Healthy Kids are here.
Tots to Teens is proud to be Aotearoa's favourite parenting magazine, with 375,000 free magazines distributed free each year nationwide. Please click here for their latest digital magazine with some glorious gluten-free recipes, and so much more!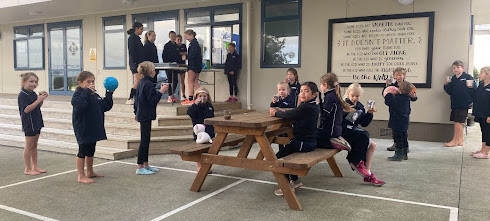 Photo: South Mak students enjoy a warm Milo at lunchtime. Thank you to Marton Christian Welfare for donating the Milo!