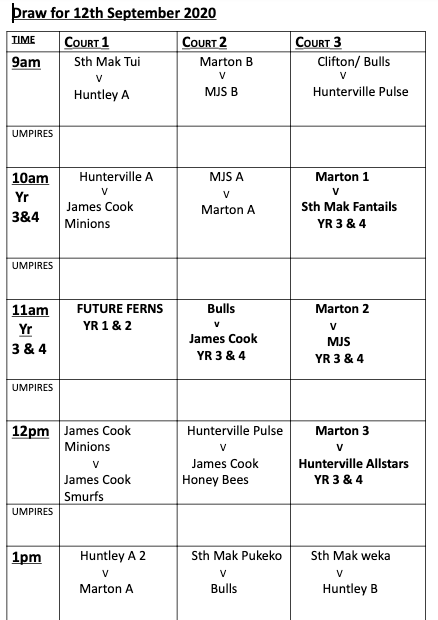 Above is the draw for this weekend.
Just a reminder about the protocols we need to adhere to:
Entry and Exit gates are on the Broadway side of the courts.
SPECTATORS
Only players, teachers, managers, and registered star helpers for the junior teams are allowed on the courts with the players.
Year 1&2 – Kylie RR, Kylie Knox,
Year 3&4 – Alisha Maas, Kylie RR.
Everyone else is to observe outside the fence obeying 2m social distancing rule.
PLAYERS
Please arrive for your game only 20min prior to the beginning of your game.
COACHES AND MANAGERS
Meet with your teams outside the courts, on a piece of paper record all team members names including coaches and managers.
This will be handed in as you go through the designated entry gate to the courts.
Please pack up your teams belongings and exit the courts as quickly as possible and don't forget to Sanitise before you exit the courts.
At around 8am on Saturday a call will be made regarding the weather. No news means we're all go!
We will NOT be playing on Sunday if it is called off on Saturday.